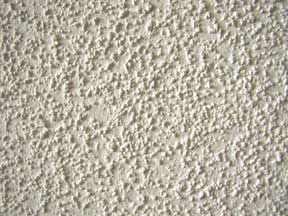 After years upon years of staring up at this weird popcorn textured feature on your ceilings, you've finally decided that it's time for a change. A lot of homeowners tend to think that they will be able to scrape their ceilings and paint themselves. Although the task may seem easy, a lot of mistakes can occur, which can damage your ceiling leading to costly repairs. At Home Drywall and Painting, we know that you not only want to get rid of that ugly popcorn stuff, but that you want to end up with a breathtaking ceiling when you finish. Our team of sheetrock experts will walk with you every step of the way through your popcorn texture removal and Woodbury drywall repair project, so your ceilings will be better than ever before.
If you're not content with your current popcorn ceiling and are interested in finding a solution that looks more appealing, you should consider knockdown ceiling texture for your ceilings. Knockdown ceilings are extremely popular at the moment. They offer contrast to a ceiling without the weighed down look of popcorn. This type of drywall texture will renew the look of your old ceiling or walls and can also add character to your flat, plain walls or ceilings.  At Home Drywall & Painting our specialty is adding personality to your home, through your walls and ceilings.Most commonly, customers ask us to remove the popcorn ceilings and replace it with a more slick option, usually our knockdown ceiling texture. This creates a more smooth and slick look to your ceilings rather than the look of the popcorn texture. If you are not interested in the knockdown texture, we can also replace it with our other textures including orange-peel. Finding a texture that gives you the exact look you have been dreaming of is our number one priority. First, we fully protect all furniture and flooring. Next, our staff scrapes of the popcorn and then makes sure that the ceiling is completely smooth. We can also fix minor drywall repairs during this time. Lastly, we will apply a new ceiling texture for you.
Woodbury Drywall Repair | Call us at 612-816-5333 to schedule your estimate!
With so many colors, textures and finishes to choose from, we guarantee we can get your home looking just how you have imagined it! So relax, grab your hot cup of cocoa, and curl up with a good book! Let your home be the comfy oasis that you've always imagined! For those living in the Twin Cities of Minneapolis St Paul, call Minnesota Home Drywall & Painting today at (651) 357-6085! Not only can we perform all kinds of popcorn ceiling removal and Woodbury drywall repair services MN – we offer the complete home remodeling Minnesota package including home insulation, home soundproofing as well as home painting! And Not only can we install sheetrock in your Woodbury MN home, we can also insulate and soundproof your walls, ceilings and floors!
Follow us on LinkedIn, Facebook and Youtube!
Check out our excellent review from Angie's List and our A+ rating with BBB!
Woodbury Drywall Repair | The Residential and Commercial Drywall and Painting Services by our Drywall and Painting Contractors MN Team are available in all the following Minnesota Suburbs:
Woodbury Drywall Repair | If you want to see more of our Drywall blogs just click on the link of interest: