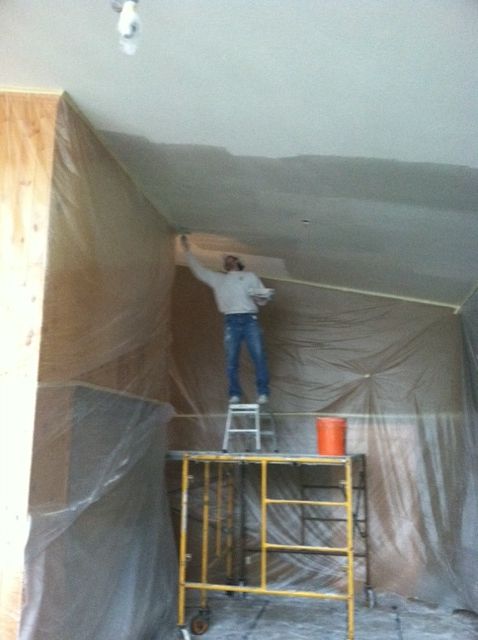 Are you in the market to fix or update your walls in Brooklyn Park, MN but you have multiple sites to get this project done at? Here at Home Drywall and Painting, we do more than just residential remodels. We have extensive experience completing such projects on large building sites like apartments, townhomes, senior living, and even large office commercial buildings.
Home Drywall and Painting is a full service drywall company with many years of experience. You may be wondering why Home Drywall and Painting is the go to company for all your drywall needs. Well, I will tell you why.
Drywall Contractor St Paul|Decorative Drywall Features
Custom Wall Cut-Outs
This feature in your home will make it different from everyone else's home. Maybe you're looking for a wall cut-out that will fit your TV versus having a bulky entertainment center. We even do cut-outs for shelves. Tired of having all those bulky, in the way pieces of furniture that you're never sure where to place in the room? We can make nearly any cut-out for that perfect spot to hold your books, movies, art or even an extra space for lighting.
Texture
If you're looking for something different than the normal flat surface drywall usually has, then adding texture to your walls is the answer. You can make any room more sophisticated and artful by adding texture to any and all walls.
Arches
The best way to make an entry way to a room less plain is adding arches. It gives you that old home look, or even a modern look. We can arch any wall in a room that you want.
Drywall Contractor St Paul
Adding features like this can be tedious and difficult if not completed by a professional. You're paying for a service that you want exceptional results on. At Home Drywall and Painting, you are dealing directly with Mike and Branden and their fully trained and licensed contractors to complete the job in a fast and safe manner, making your room flawless.
Are you ready to start a project you know you'll get great results with? If so, contact us today for a free consultation (612) 816-5333!
We offer Drywall and Painting services in the following cities in Minnesota & Wisconsin: