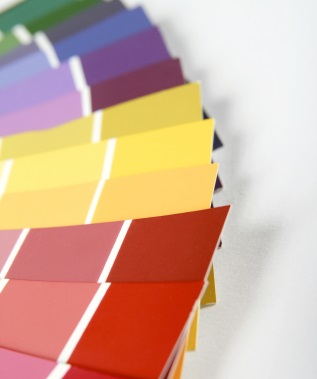 When you add color to a room, it holds mystical powers and can do many things. For example, you can also use color as a way to grab the eye quickly. By simply painting one wall a color that catches the eye is a quick and easy way to create a focal point. You can also use this trick to add a burst of color to a room or to highlight something in the room (like an art sculpture, furniture or a picture).
Another way to use color is to create certain moods in various rooms throughout your home. For instance, you can use calming blues for a bedroom, exciting yellows for a living room, or hot oranges for a kitchen.
Home Painters: Primary and secondary mood-associated colors to keep in mind when you are choosing painting your home
Blue – Blue has the power to heal your spirit. Blue is quiet, cool and calm. Blues are great for the bedroom or bathroom.
Green – Green is refreshing and has the feeling of being reborn. From the basement, to the master bedroom, green can go in any room.
Red – Red is eye-catching, energetic, and dynamic. Red is great in rooms that are busy and exciting, like the living room.
Orange – Orange is zesty, peppery and tangy. Orange is great for rooms where you have some wiggle room to be creative. Rooms like the kitchen or dining room are great places for a splash of orange.
Yellow – Yellow is the playful, friendly color that can be very versatile. From a soft yellow, to a vivacious and bold yellow, it can be great for an entryway, hallway or bathroom.
Purple – Purple brings in a sense of elegance, passion and drama. Purple is a mix between relaxed and vibrant, and can be used anywhere within the home.
Neutral Colors — Neutral colors consists of black, white, grey, and brown. These colors are extremely popular because they coordinate very well with most color schemes and have the ability to make a room larger.
Home Painters: Need Help Choosing A Paint Color? Home Drywall and Painting Can Help!
At Home Drywall, our professional interior and exterior painters have the knowledge to help pick out the right colors for your home. We also provide affordable, quality painting services that stay well within your budget, whether it's an entire apartment complex, town home association, mall, another corporate location or your home needs professional painting, we are your solution.
If you have any questions about paint colors or our painting services, call Home Drywall and Painting at (612) 816-5333 today!