Minnesota winter has started and now is here to stay for quite a while. So it's definitely a good time to consider catching up on interior home remodeling projects that you've put on the back burner for a while. Looking for an inexpensive way to change the look of your bedroom, living room, or any other room in your home? You do not always have to upgrade the expensive items in your home in order to get the look you have been striving for. One great way to bring a more elegant look to any room in your home is by removing the popcorn texture from your ceiling. Choosing the right team to handle your popcorn ceiling removal is very important because it is not always an easy job. More importantly, it is not a do it yourself task, so leave it to the professionals. If you live in Woodbury, MN, there is no better team than the staff at Minnesota Home Drywall and Painting to handle your popcorn ceiling removal in Woodbury MN! We have many years of experience in providing efficient and quality popcorn ceiling removal throughout the Twin Cities of Minnesota and you can check our Google Reviews to see what our customers have to say about our work!
Popcorn Ceiling Removal in Woodbury MN| What does the Popcorn Ceiling Removal Process Entail?       
 There are typically five steps to the popcorn removal and re-texturing process. However each home is different, so these steps can vary. This is typically how we would go through your project for popcorn ceiling removal in Woodbury MN:
 Step 1: Preparation
The first thing that needs to be done for your popcorn ceiling removal in Woodbury MN project is to remove everything off the walls and ceilings. Everything–from pictures to ceiling fans, to tracking lighting and vent covers, everything needs to come down. Plants, animals, and children should be removed from the area as well.
To keep furniture safe, plastic sheeting is placed over them. Plastic sheeting will also be placed right at the ceiling line and draped to the floor. It is important to cover up any carpets as well. If any popcorn texture gets onto the floor, it can take hours upon hours to get that stuff out.
 Step 2: Removal
The next step is the removal process. We begin by spraying your ceiling. The ceiling needs to be wet in order to scrape off the popcorn texture. We make sure to use just the right amount of pressure that can remove the texture, but keep your ceiling gouge-free. The amount of time it takes to complete the removal process will vary from room to room.
 Step 3: Repair
With all of the popcorn texture off of the wall, now it's time to analyze your ceiling to evaluate if there are any cracks or badly taped regions that need to be fixed. We check to see if any water leaks and sheetrock bows between joints need to be repaired.
 Step 4: Re-texture
One of the most popular textures is skip trowel. We use the right tools to smooth out and feather any edges to make a smooth transition to your walls. We make sure to put a quality primer sealer on before moving forward. Sealer is an extremely important step because it can block stains, odors, and mildew from leaking through your new texture. A primer can also give you a good base for your top coat.
 Step 5: Clean-up
Just as important as the set-up is the clean-up. We safely remove all the plastic and tape from the ceilings and furniture.  We slowly roll up the plastic so we do not leave any popcorn texture on your floor to make sure your popcorn ceiling removal in Woodbury MN project has a clean finish!
Popcorn Ceiling Removal in Woodbury MN| Call us at 612-816-5333!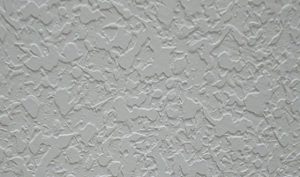 While removing popcorn from ceilings and replacing it with knockdown texture is the majority of our work, we also apply knockdown texture on interior walls. For an additional cost you may choose to have a smooth/slick surface on your ceilings and or walls instead, however the process demands more time and effort in order to achieve high quality results. Not only is knockdown texture an affordable upgrade to your home in Woodbury MN but it can be executed in a timely manner. Whether your Woodbury MN home is fully furnished or vacant (lesser cost), we take every precaution necessary to keep your home and furnishings safe and clean. Once your home and furnishings are protected we begin to scrape the popcorn and subsequently skim for smooth ceiling or spray knockdown. Minor drywall repairs are usually done at no extra charge, however if the repair is extensive we offer a full drywall repair service at very competitive prices (this cost is always in the original proposal so there are no surprises). So don't hesitate to call us to schedule your project for popcorn ceiling removal in Woodbury MN!
Popcorn Ceiling Removal in Woodbury MN| The Residential and Commercial Drywall and Painting Services by our Drywall and Painting Contractors MN Team are available in all the following Minnesota Suburbs:
Popcorn Ceiling Removal in Woodbury MN | If you want to see more of our Drywall blogs just click on the link of interest: