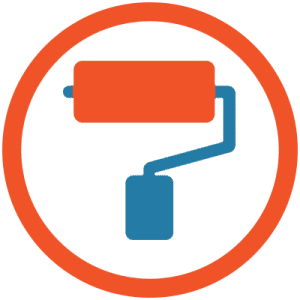 612-816-5333
Commercial or Home Painting can be a very messy job. The wet paint easily splatters on flooring, windows and wood work. Not to mention, making sure the paint goes on straight and doesn't hit the ceiling is extremely difficult for an average Maple Grove MN homeowner, painters tape can only help so much. Because the task is so messy, it is important to get the correct materials for prepping the area, to decrease the chance of paint speckles everywhere. Home Painters MN At Home Drywall & Painting are professional Best Painters in Maple Grove MN with the preparation materials, paint, equipment and the steady hand needed for a perfect finish to the walls in your Maple Grove MN home.
Best Painters in Maple Grove MN : Preparation Materials
A home holds many items, some high in value due to sentiment and some because of cost. Regardless of the reasons why, we know you want your items to be safe. We ensure that everything in your home is protected by covering up anything you do not want to see painted. From one room to a whole house, we will make sure the only thing that changes are the walls.
Best Painters in Maple Grove MN : Paint Varieties
Any color you can imagine, we can introduce to your Maple Grove MN home. Whether you have already designated a specific color for every wall or you aren't quite sure what paint would look the best.  One of the hardest parts about choosing a color scheme is wondering if the color chosen is too dark or too light for that area.  We will give you our honest opinion by observing the size of the room, how much light enters the room and what we have experienced with other painting projects.  Another variety that can be difficult to choose is the paint finish; we offer flat, shine, egg shell, semi-gloss and a high-gloss finish option. We can explain to you how each finish will reflect differently and what areas they are most commonly chosen for.
Don't struggle with unnecessary help from kids and even pets, let the professional painters of Home Drywall & Painting come to your Maple Grove MN home and change the entire look of your walls with our high quality paint.  We promise you won't see paw prints trailing through your home after we're done with the job. Get an easy online interior painting quote or call us at (612) 816-5333 for a free consultation from the best painters in Maple Grove MN. 
Best Painters in Maple Grove MN |All our other Remodeling and Drywall Services include:
Room Soundproofing
Deck Staining
Fence Staining
Pressure Washing
Air Duct Cleaning
Framing
Woodwork
Popcorn Ceiling Removal
Drywall Installation, Hanging, Taping, Sanding
Drywall Texturing
Water Damage Repair
Drywall Repair
Best Painters in Maple Grove MN | Follow Us and Check out our Reviews!
Follow us on LinkedIn, Facebook and Youtube!
Check out our excellent review from Angie's List and our A+ rating with BBB
The Residential and Commercial Drywall Services by our Painting and Drywall Contractors MN Team are available in all the following Minnesota Suburbs:
If you want to see more of our blogs just click on the link of interest: